SecoFLEX coloured masonry wall coatings have been used extensively by professional tradesman throughout Europe since 1975 for protecting homes, buildings and structures in industrial environments. Today, the unique formula remains a number one choice for many professional tradesman and at Secotherm, we are not at all surprised! SecoFLEX has more benefits than any other masonry coating on the market and guarantees to deliver a professional, smooth finish that property owners can be proud of for many, many years!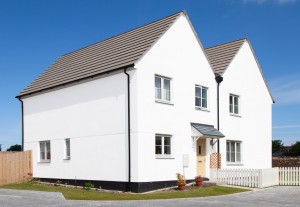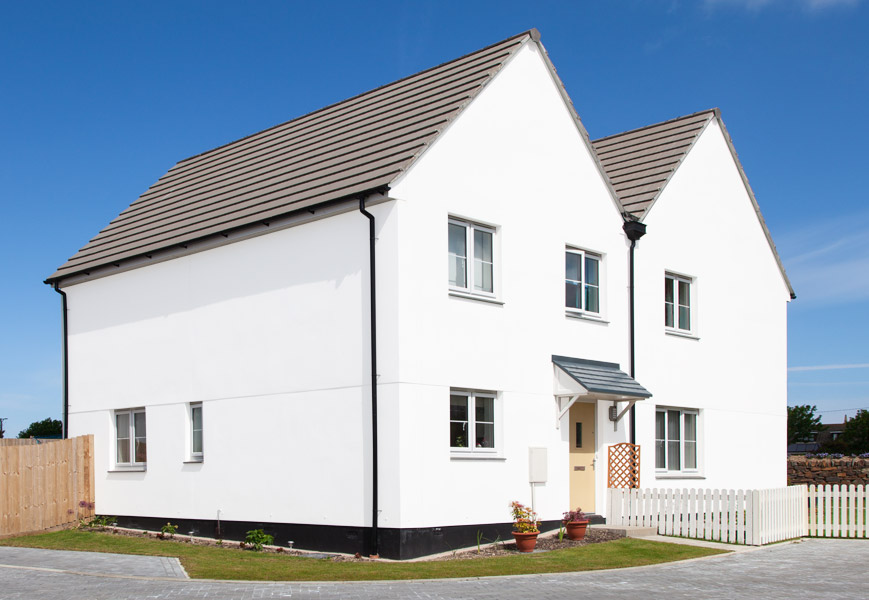 Professional Wall Coatings for Professional Tradesmen
SecoFLEX has a range of unique benefits which help tradesmen to deliver a service which will stand the test of both time and the elements. Below are some of the key benefits of SexoFLEX coloured wall coatings:
SecoFLEX is 100% waterproof and 400% elastomeric and due to it's unique formulation, the coating will not peel, crack or flake – Even in hot or cold temperatures.
The unique wall coatings are also specifically designed to get the best out of different systems. In this way, the combination of different binding agents ensure a homogeneous product that repels water, is waterproof and is permeable to water vapour.
The plasticising agents present in the wall coatings also does NOT give blisters, hairline cracks and distortions a chance to develop.
Finally, the sophisticated formula of pigments and fillers provide optimal protection against discolouration even in the darker shades.
The combination of the above characteristics make SecoFLEX the best option in waterproof wall coating paints.
Laboratory Proven Quality
Diverse test reports by recognised laboratories confirm the exceptional product characteristics of the SecoFLEX formulation. Don't just take our word for it though, request a sample today to see the fantastic benefits and qualities of SecoFLEX for yourself!
Practice Proven Quality
At Secotherm, we believe that practice remains the best test. As already mentioned, our SecoFLEX formulation has been used all extensively throughout Europe since 1975. No matter what the climate and weather conditions, SecoFLEX has provided the same level of quality and effectiveness. Hot or cold, dry or damp, rural, industrial or urban environment, it makes no difference!
Prolong The Lifetime Of A Building By A Significant Extent!
SecoFLEX waterproof wall coating can prolong the lifetime of buildings to a significant extent.
In fact, we are so confident in our product that we provide a 10 year guarantee. External walls which have a SecoFLEX wall coating will be protected from early aging, damage from air borne pollutions and water penetration for many years.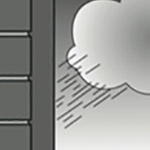 SecoFLEX is 100% waterproof
SecoFLEX wall coatings are 100% waterproof at consumption levels
from 1 kg/m2 (DFT > 0.3 mm).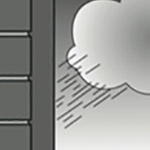 SecoFLEX Elasticity
The formulas 400% elasticity results in the permanent bridging of cracks & fissures. It also remains flexible at temperatures as low as - 20°C.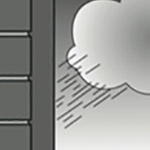 SecoFLEX is breathable
The wall coating creates a constantly breathing system which provides sufficient permeability to water vapour, allowing walls to "breathe".
Water Vapour Permeability
Diffusion resistance value (μH2O) = 440
Diffusion resistance W = 0.13 m
Definition: diffusion resistance = μ-value x DFT (microns)
A low volume permeability gives secoFLEX its waterproof surface.
High water vapour diffusion allows secoFLEX to "breathe" – Allowing moisture out.
Protection from Salt Corrosion
Salts corrode masonry brickwork. SecoFLEX however can protect your property from damaging salts, also known as Chloride, which are found in coastal environments and in the salts used to grit roads in winter which can easily splash properties.
Influence of Chloride on The Corrosion of Concrete
Damaging chloride salts can enter your wall areas for a number of reasons, through prolonged coastal exposure, through exposure to wet stray salts from the roads in winter and through the use of hygroscopic salts i.e. calciumchloride to give the concrete a faster hardening.
Influence of Salts on Brickwork
An ongoing corrosion process is taking place
Hydrogen gas is evolved making the steel brittle thereby reducing its reinforcement properties
Diffusion profile of chloride in concrete

How does SecoFLEX compare to the basic requirement of other wall coatings?
Standard masonry paint:
W(CO2) > 50 m
Some protection against chloride-diffusion
Some degree of flexibility
U.V.& alkali-resistance
W(H2O) < 0.4 m
SecoFLEX:
W(CO2, 300 micr.) = 615 m
0.45 mm secoFLEX = 12-16 mm of concrete
400 % elasticity even at – 20°C / + 30°C
Excellent U.V & Alkali Resistance -Minimal change of appearance during the life of the coating
W(H2O, 300 micr.) = 0.13 m
Put simply, SecoFLEX exceeds other masonry wall coatings!
Fluctuations in temperature cause traditional masonry paints to become brittle. Over time these brittle coatings then crack, peel and flake. SecoFLEX however is designed specifically to not crack, peel or flake. Just one of the reasons why SecoFLEX is the ultimate waterproofing wall coating for exterior walls.
If you would like more information, we can provide a full specification and a free no obligation quote for a SecoFLEX application, please do not hesitate to contact us!