SecoFLEX masonry paint has been used extensively throughout Europe for protecting homes, buildings and structures in industrial environments since 1975; it is renowned for being the best masonry paint available. Whatever your requirements, with SecoFLEX coloured masonry paint you are guaranteed a professional finish which will last for many years.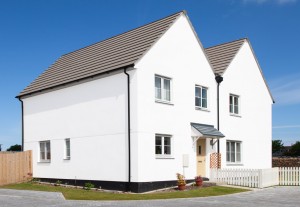 What makes SecoFLEX the Best Masonry Paint?
Today there is now endless choice when it comes to choosing masonry paint as many home improvement shops now sell their own brand. With over 30 years of experience in the industry, unlike other brands on the market, SecoFLEX is guaranteed to deliver high quality, long lasting results. Here at SecoTHERM we have built a reputation on providing only the best masonry paint to our customers. Below are some key reasons for why SecoFLEX is the best masonry paint:
SecoFLEX masonry paint is 100% waterproof meaning that your property is protected against penetrative damp.
SecoFLEX is 400% elastomeric meaning that you will be left with an optimum wall protection system that will not peal, flake, crack or blister in hot or cold temperatures.
SecoFLEX is the best masonry paint because it is breathable. With its unique microporous covering, SecoFLEX provides sufficient permeability to water vapour.
The formulas high film thickness bridges cracks and imperfections, guaranteeing a high quality coverage.
SecoFLEX also provides the same level of effectiveness in all climates, weather conditions and environments, industrial or urban. Whatever your project, SecoTHERM can deliver high quality results that you can rely on to protect your property.
SecoFLEX also has a long life expectancy. Whilst other brands may show signs of ageing and damage, with SecoFLEX, the formulas U.V. and alkali resistance and its protection against sodium means that the coating will not discolour, saving customers money by reducing maintenance costs dramatically.
Quality Guaranteed with SecoFLEX
SecoFLEX's unique formula, durability and flexibility make it stand out in a market that is now very competitive. For the best masonry paint, choose SecoFLEX.